Here we present the ultimate guide of how to get to the Three Valleys so that you don't have to spend hours researching the pros and cons of each method of transport.
Leave all the boring (but necessary) travel logistics to us so that you can plan your next awesome ski holiday in the alps stress-free…
The Three Valleys in the Alps is the world's largest ski area and loved by snowboarders and skiers alike for the amazing snow conditions and top quality facilities on offer.
There are numerous ski resorts including Meribel, Courchevel, La Tania and Val Thorens and each boast their own unique features, but once you've chosen your favourite resort what is the best way to get to there?
Flights to The Alps
First things first! The most common way people will travel to the Alps from the UK is by air. There are regular flights from all major UK airports to Grenoble, Chambéry, Geneva and Lyon and flights take somewhere around two hours (depending on weather).
PROS
Flying is fast and efficient which ensures that more of your precious holiday time can be enjoyed on the snow and not on the road
You have a choice of airports to take off from and to land in, giving added flexibility and options
CONS
Weather can affect flight times which sometimes causes delays
Some people are afraid of flying which cancels out this mode of transport all together!
Below we list each of the airports close to the Three Valleys so you can choose which best suits your travel plans.
Grenoble Isère Airport
Address: 38590 Saint-Étienne-de-Saint-Geoirs, France
Crossed by the Drac and the Isère Rivers, flights to Grenoble will allow you to see first-hand the magnificent scenery thanks to the beautiful Vercors, Chartreuse and Belledonne mountain ranges. Grenoble is often called the 'Capital of the Alps'
Grenoble Airport Distance to:
Courchevel 179km
Meribel 175km
Val Thorens 195km
Aix Les Bains Airport in Chambéry
Address: Route de l'Aéroport, 73420 Viviers-du-Lac, France
Often coined the 'Jewel of the Alps', Aix Les Bains airport in Chambéry is growing rapidly and introducing new airline carriers all the time giving people travelling to the Alps more options. Chambéry enjoys a picture-perfect location, nestled in a valley between the Bauges and Chartreuse mountain ranges and enjoys 360 degree views over the stunning alpine setting.
Chambery Airport Distance to:
Courchevel 106km
Meribel 102km
Val Thorens 122km
Geneva Airport
Address: Route de l'Aéroport 21, 1215 Le Grand-Saconnex, Switzerland
Geneva Airport was formerly (and still is unofficially known as) Cointrin Airport. The airport is partially located within Meyrin (France) and partially in the commune of Grand-Saconnex (Switzerland) and can be accessed by both countries.
Geneva Airport Distance to:
Courchevel 140km
Meribel 135km
Val Thorens 155km
Lyon Airport
Address: 69125 Colombier-Saugnieu, France
Lyon Airport, or Lyon–Saint-Exupéry Airport as its more officially known, is located in the third biggest city in France, also known as France's "foodie capital". Lyon boasts award winning restaurants, star chefs and incredible gastronomy!
Lyon Airport Distance to:
Courchevel 183km
Meribel 189km
Val Thorens 200km
Airport Transfers
A viable alternative to hiring a car at the airport is an airport transfer. An airport transfer is where a friendly driver awaits you at arrivals with your name on a board. He will help you into the car with your luggage and drop you and your family directly outside your door in resort. All you need to do is sit back, relax and enjoy the view. With transfers from Chambery, Grenoble, Geneva and Lyon airports covering numerous ski resorts including Meribel, Courchevel, La Tania and Val Thorens, Snowbound Transfers take pride in being one of the best transfer companies in the Alps region offering many quality and competitive transfer options, as below:
PROS
The advantages are that you will be met at the airport by an English speaker who knows the resort inside out and then you can relax all the way to the resort. All of which means you don't need to worry about mucking around with snow chains or finding your way there when you're tired and eager to get to your chalet!
Airport transfers are cheaper, faster (and much more pleasant) than public transport! Don't wait in queue with hundreds of other tired travellers; with an airport transfer you will be greeted by an experienced driver displaying a board depicting your name and welcoming you with a warm smile. And nothing quite beats a door-to-door transfer service; it's just so easy and convenient!
CONS
You will be so impressed with the service and comfortable ride of an airport transfer that you might feel inspired to tip the driver (but even with that in mind it still winds up cheaper than a taxi!).
The drive can seem long so if you get travel sick, ensure that you sit up the front- the windy roads can sometimes affect those who don't usually suffer. That said, the stunning alpine views to enjoy along the way should take your mind off things and get you frothing for the epic ski conditions once you arrive at your ski chalet!
Get in touch for a quote. Let us help with an easy and convenient airport transfer service to make your ski trip start as stress-free as you intend the remainder to be…
Travelling by Train to the Alps
Eurostar trains stop at Moûtiers, Aime-la-Plagne and Bourg-Saint-Maurice where you can get a coach or train station transfer to many of the top ski resorts. Eurostar trains to Moutiers are the best for reaching Three Valleys resorts such as Courchevel, Méribel, Les Menuires, Val Thorens. Once arriving at your destination train station, you will have to book a taxi or private transfer to take you to your chalet.
There are three key ways to travel to the French Alps by train:
PROS
Your holiday starts as soon as you take your seat! Relax back and take in the stunning views zooming past the window as you travel through France before arriving at your destination relaxed and ready to ski.
Generous luggage allowance means you can take your skis or snowboard, as well as two suitcases at no extra charge.
CONS
With only a few direct trains per week, travelling to the Alps by train proves popular and books up fast, so you must book early to ensure you get the dates you want.
Travelling by train can be more expensive than flying with budget airlines, and food/drink on board is extra. And it also takes a lot longer than flying so you will 'lose' two days of your holiday travelling by train.
Driving to the Alps in a Car
Some people choose to pack up their car and drive to the Alps. This involves a ferry crossing (the easiest crossing is Dover-Calais, both P&O Ferries and DFDS operate between the ports), or of course there's always the Eurotunnel. Ferry crossings usually take between 75-90 minutes to cross the 26 miles between Dover and Calais, and then the actual driving (via Calais, Reims, Dijon, Lyon and Albertville) will total approximately 800 miles, with a driving time of about 12 hours.
PROS
You can see lots of beautiful scenery on your drive down to the Alps and even choose to stop off overnight on the way to experience new cities or villages to enhance your holiday.
You can squeeze all your luggage, boards and kit into your car which means no extra luggage charges!
CONS
Driving in snowy conditions can be treacherous. Even the most experienced driver can become disoriented and unstuck when driving in snowy conditions. Depending on the temperature, wind and depth of snow, in most cases snow chains, snow tyres (or a 4×4) are the only safe option for driving in the alps (if you know how to fit them!)
Hidden costs! Fuel, parking, insurance, European breakdown cover and car maintenance costs all need to be considered. If you drive the whole way to the Alps on French toll motorways, the total toll bill alone is around £130 return (try using the French site Mappy, which gives details of toll charges so you can plan your route).
Hiring a Car at the Airport
Perhaps you want to fly to the Alps and hire a car at the airport to cut your driving time in half. It's a little bit of a minefield so you'll have to be prepared! You will need to ensure that your hire car company permit the car out of the country (if you're landing in the Swiss side and want to ski in the French side, for example), you'll need to pay extra for winterisation of the car, be offered extra insurances and also you must make sure that the car is fully equipped with everything it needs to be legally allowed to drive in the EU.
PROS
You can squeeze a few friends into your hire car, thus cutting costs and sharing the driving if needs be (and insurance allows). Be aware though that they will all need room for bags/equipment too!
You will have independence and are not limited by train/bus departure times (and reliability), meaning that you can relax and take the journey at your leisure. You can even stop off at places of interest on the way!
CONS
As above with driving a car to the alps, driving in the snow can be treacherous so you must ensure you have snow chains (and know how to fit them) as well as other precautions to ensure safety. Weather conditions can change quickly in the alps, with fog and adverse weather quickly disorienting drivers who aren't accustomed to such wintry conditions so choosing to hire a car from the airport mustn't be a decision that is taken lightly!
Many people find that once they arrive in resort, they park their car and don't need to start it up again until it's time to leave! That's a lot of wasted car hire charges, parking charges and insurance costs…
Buses from the Airport to the Three Valleys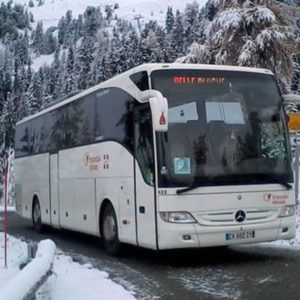 A bus service from the airport to the Three Valleys is a good budget option for individuals who want to travel to their ski resort economically. For bus transfers from Geneva airport you can check timetables and reserve tickets online at Altibus. Bus transfers from Chambéry airport can be booked via the Mobisavoie website, and if you want a bus from Lyon Saint Exupéry airport to the Three Valleys, look here.
Top tip! When looking at timetables, be aware that they're in French so L = Lundi / Monday, M = Mardi / Tuesday, Me = Mercredi / Wednesday, J = Jeudi / Thursday, V = Vendredi / Friday, S = Samedi/ Saturday & D = Dimanche / Sunday.
PROS
Depending on when/where you travel, buses to resort can be very reasonable!  Be aware that tickets can be bought from the 'Bureau de Transport' in Méribel Tourist Office, but purchases must be made at least 48 hours in advance (and the bureau is closed on Sundays and Mondays).
This is a good option for those looking to minimise their carbon footprint.
 CONS
They take a long time! Also this service only operates four times a day on Saturdays and once on Sundays in winter. You can't pick up a bus to suit your flights/trains, instead you may be waiting around for some time waiting for your bus. And then there's no guarantee that it will have space for you so you may well have to wait for the next one!
Buses don't drop you to the door, so lugging your bags, equipment and ski gear will be a bit of a challenge if you arrive in the dark or during a huge snow fall!
Conclusion
Airport transfers are easily the fastest and most convenient way to travel to the alps… as well as being the most flexible and most reliable method, an airport transfer to the Three Valleys is most definitely the most popular choice for those who are budget-savvy yet know that getting to the snow is the most important thing about a ski holiday!